Hubilo provides various event analytics which is as follows:
1. People Analytics: that tells the total no. of people (inclusive of all groups) added to the virtual event to date. Also the total no. of people who have ever logged into the virtual event to date as well as the count of deleted users. It also includes a day-wise user chart of active and new users.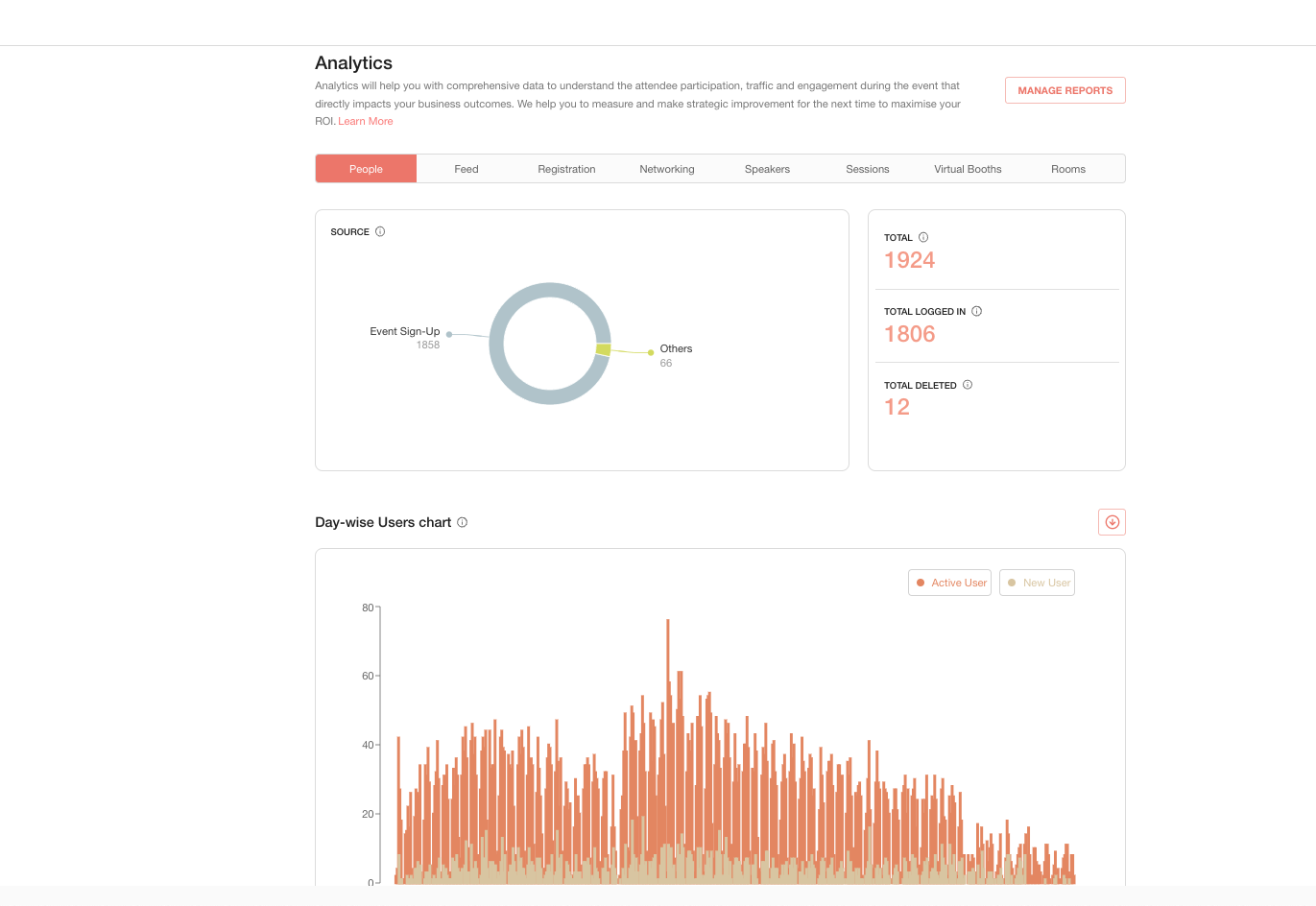 ---
2. Feed Analytics: In this analytics, we provide various charts regarding the day-wise total no. of posts by people on the activity feed, type of posts, number of posts, likes, comments, and reported posts.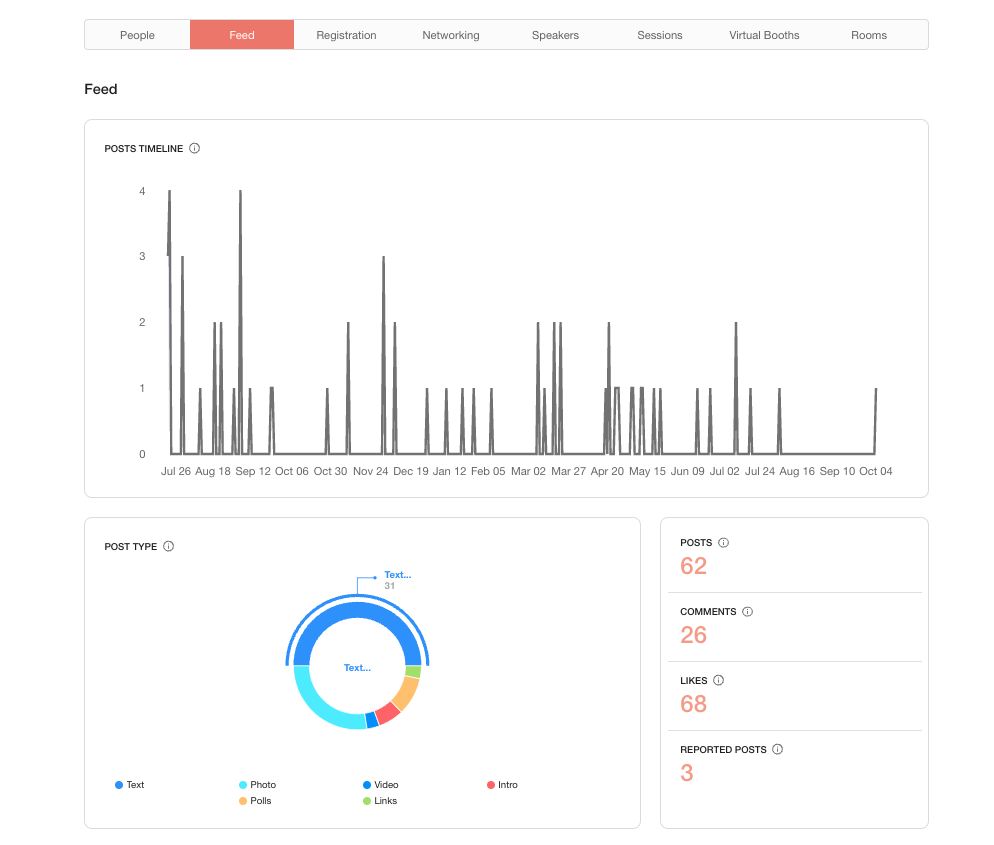 3. Networking Analytics: Here you will get basic statics of the industry of your attendees, their interests, what they are looking for, and what they have offer to. Also the stats about the one-to-one meeting, and lounge meetings. This also includes the status of profile views and actions taken in each meeting.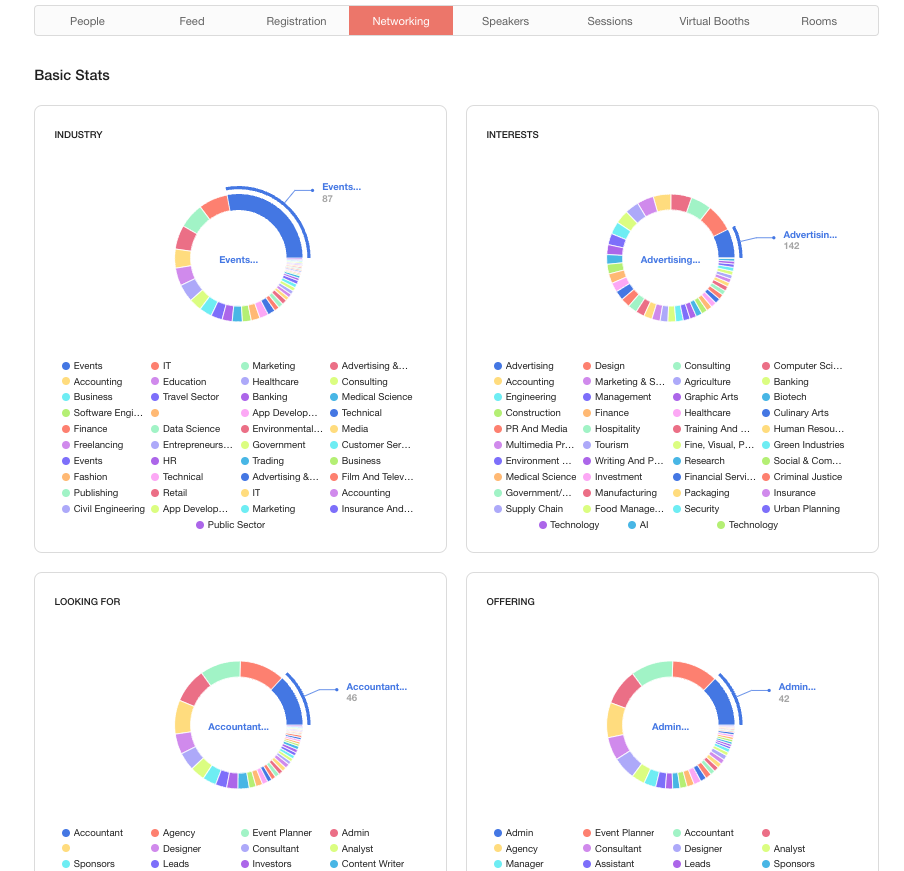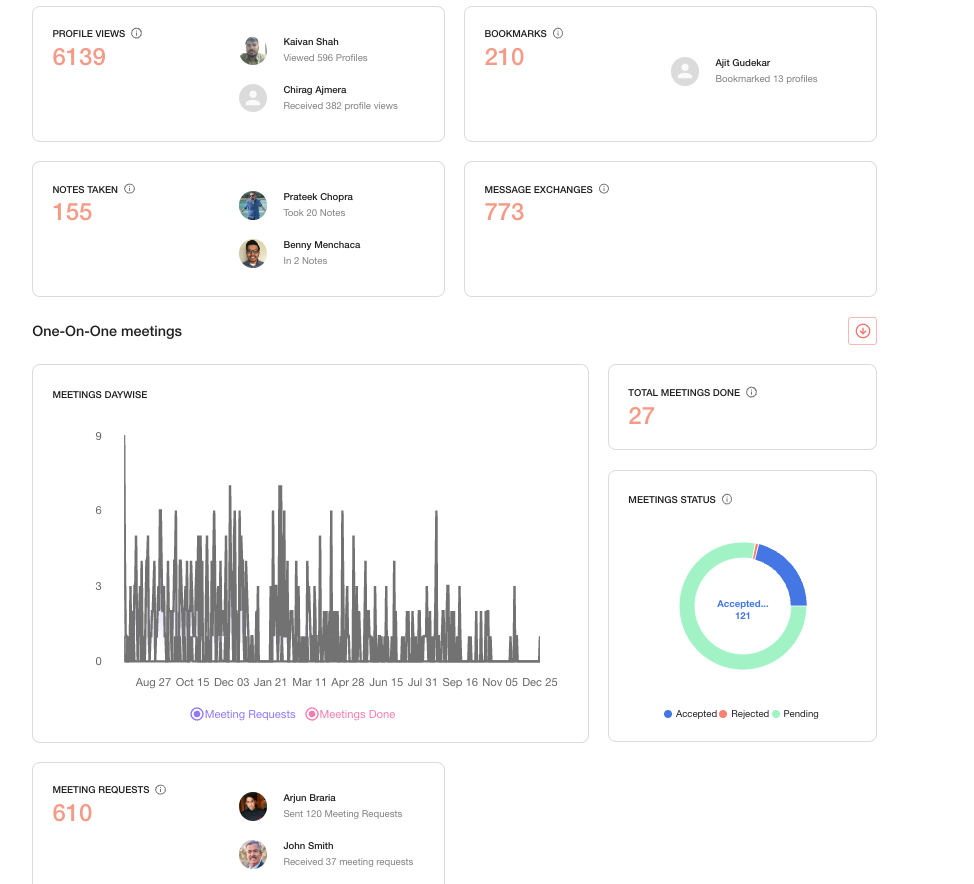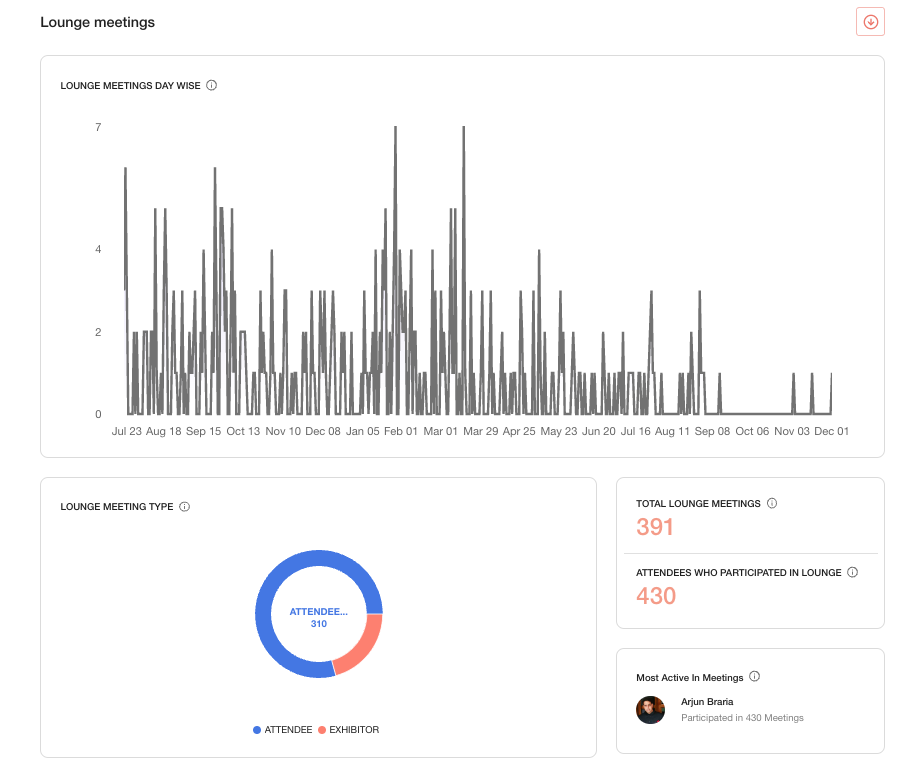 4. Speakers Analytics: Here you will be able to get data on your speaker's ratings, categories, and profile views.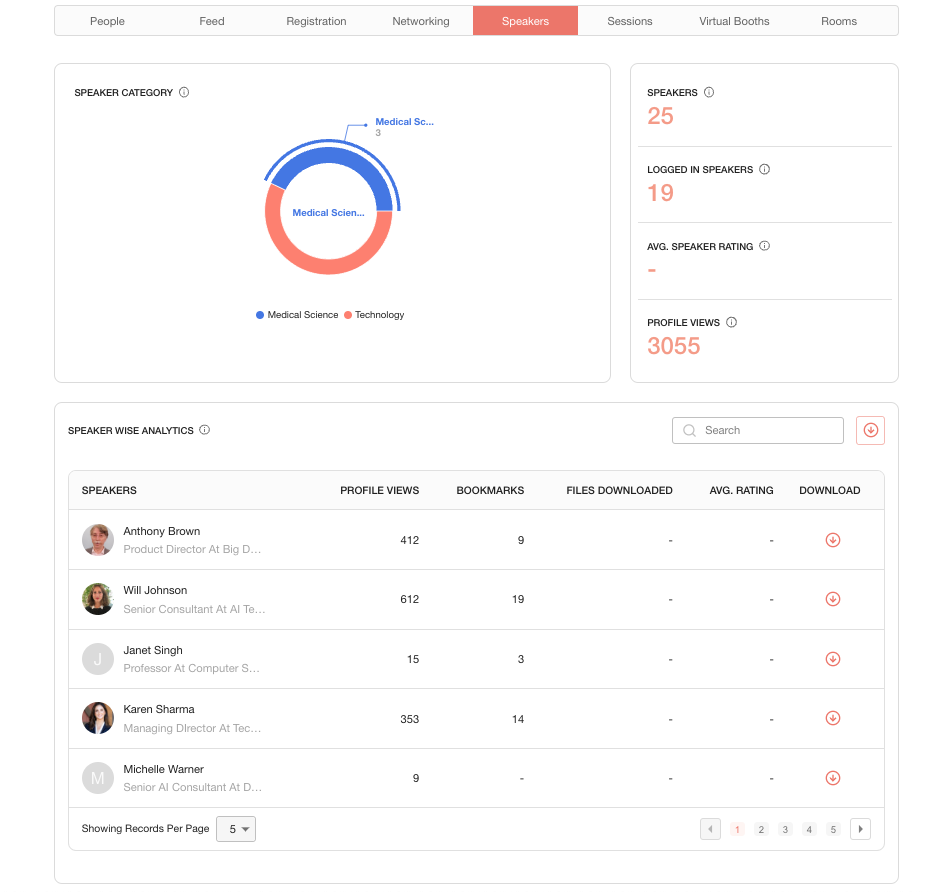 ---
5. Session Analytics: here you will get complete data on the total number of sessions your event has, total tracks, total views, replays, average rating, unique views, session join and leave time, average watch time, etc.
Also, the most watched sessions will display. We are showing average watch time at the attendee, session, and event levels (both live and on-demand sessions). Session analytics also provide the details of engagement that happened during the session viz. chats, Q&A, polls, etc.
To download all session analytics in one zip folder > Click on the download icon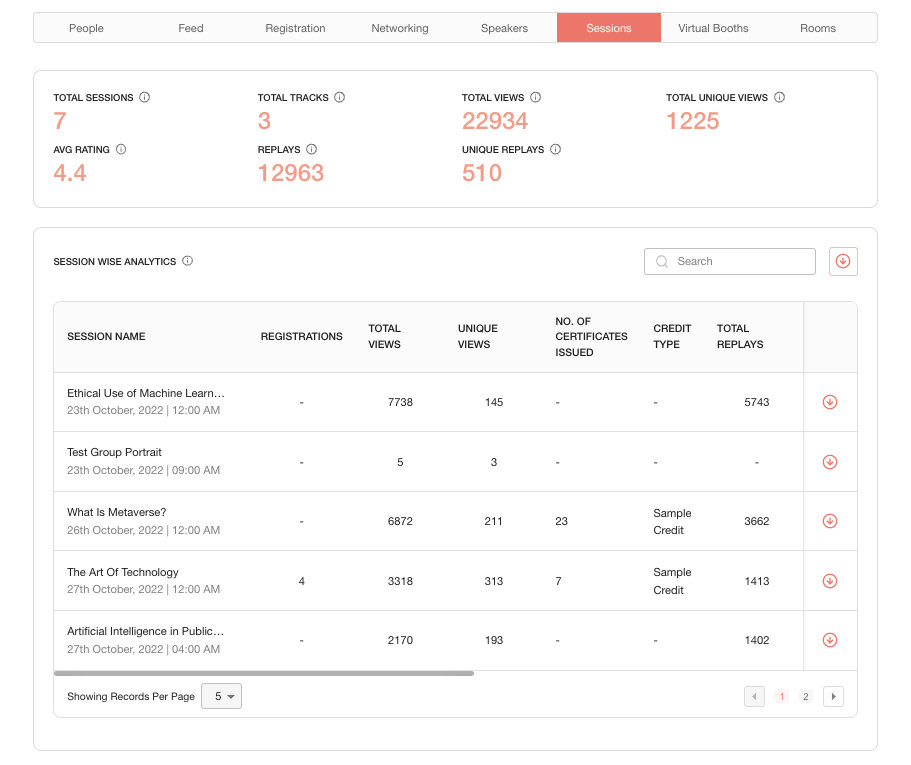 Choose your preferred sorting option > enter the email id on which export data will be sent > click on send

System mail will be sent to the email id with a Zip Folder containing all session analytics reports.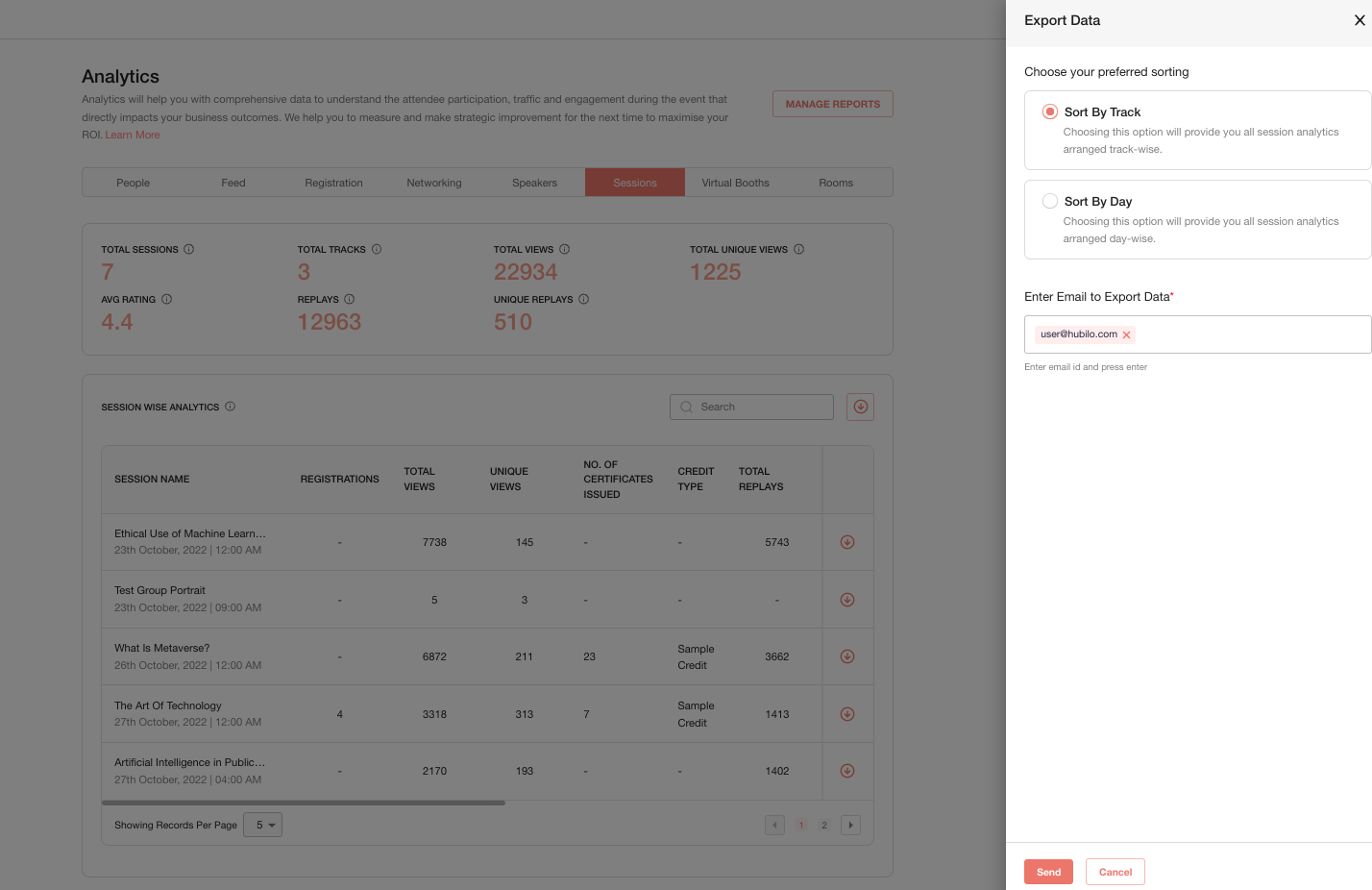 In Session wise analytics reports you will also find
Join time and leave time of attendees for live sessions as well as for on-demand sessions.

Cumulative watch time of each attendee for the live sessions and on-demand sessions.
How do Join and Leave time work?


When the user clicks the join session button it captures the Join time.

Leave time will be captured if you close the tab, close the browser or refresh the browser, the system shut down, in pip mode, select the cross button, and log out.

Leave time captures when navigating to a different tab.


Limitations of Join and Leave time :
A) Mobile App
Session Join time and Leave time are not getting captured in the case of PIP mode.
Session Watch Time is not calculated for Speaker/Private Link Speaker/Host in case of HBS studio/External URL/Zoom Webinar.

Leave time will be captured for Speaker/Private Link Speaker/Host in case of HBS studio only if the session is left by clicking on the Leave button and will not be captured in case of Internet disconnection/tab close/browser close/Page Refresh.

Only Join time will be captured for Session Types: Other(External URL)/Zoom Webinar

If the same user joins LIVE and ON-Demand sessions then the join and leave time of the on-demand session will be captured in the LIVE Report as well and Session watch time in the Live and Unique report will be the same.
Note: We are not computing the Average watch time in the case of the mobile apps.
6. Virtual Booth Analytics: Here you get exact data on the number of virtual booths, team members, premium booths, total connections, total rating, etc. Additionally, you also get data regarding the number of product views, video views, CTA clicks, files downloaded, and virtual booth categories.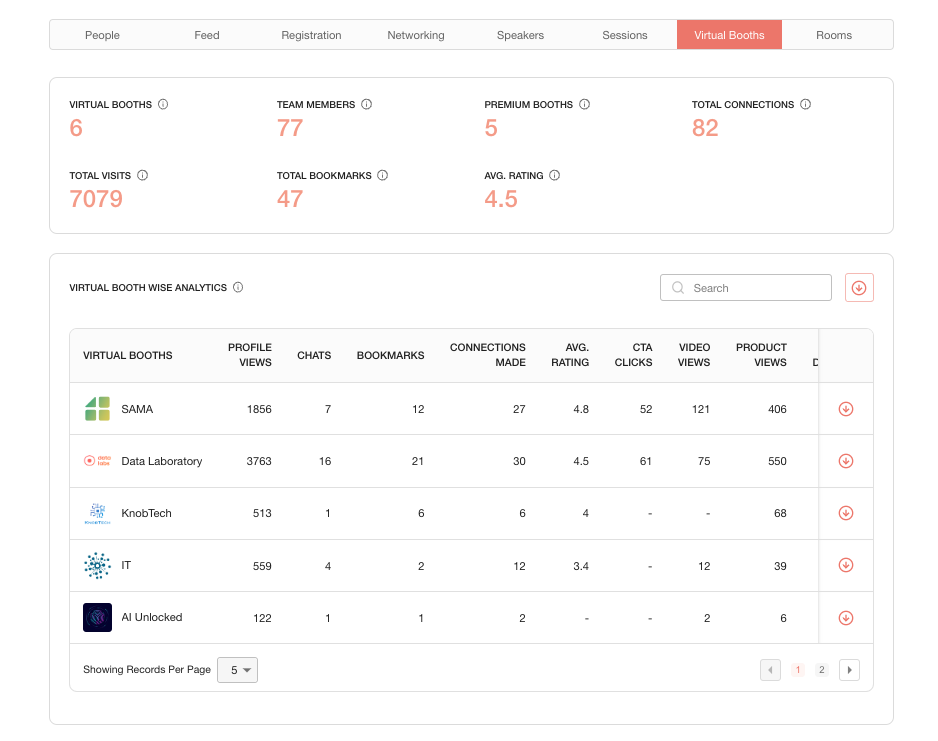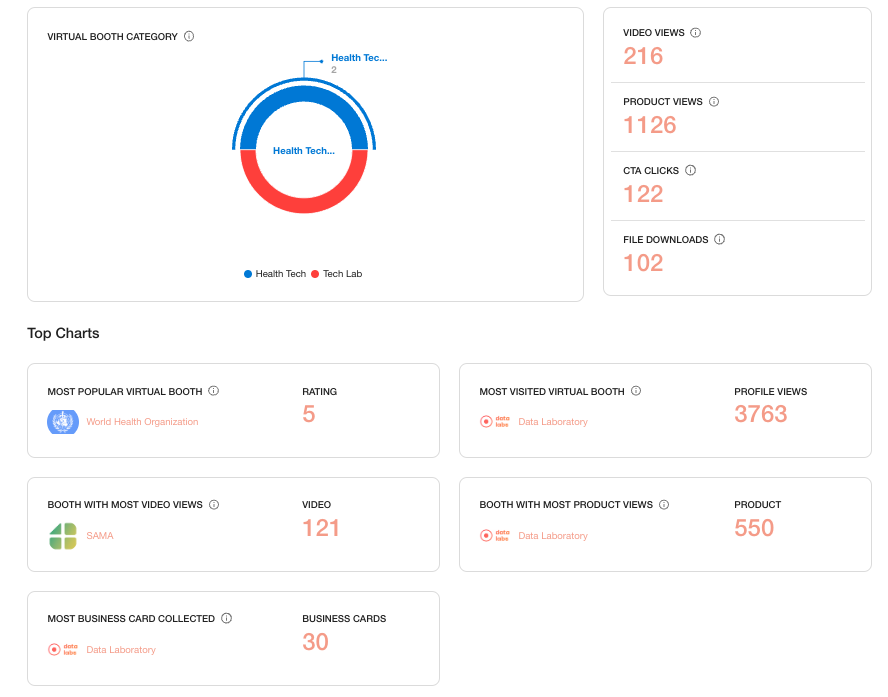 7. Room Analytics: Here we provide you with the complete data of rooms which include the total number of rooms, the total number of sessions, room bifurcation as per room nature( Single session/Multiple), total spectators, and room summary.