Small Banners is a functionality available in our New Community of the Hubilo Platform.
These are the images that can be displayed on all types of Virtual Booths which include Large, Medium, and Small Booths.
These Banners are helpful in enhancing the visibility of the particular Booth and provides an option to add a better scope of Branding to a Virtual Booth.
Dimensions of Images to be uploaded as a Small Banner is:
385 x 250 px and the Maximum size of the image should not exceed 5 MB.
Steps to Add Small Banners in Virtual Booths in New Version of Hubilo Platform :
Step 1: Click on Virtual Booths
Step 2: Click on Add Virtual Booths
Step 3: After clicking the Add Virtual Booths option, you would be asked to enter the required details related to the particular Virtual Booth. Once you input all the details, scroll down to the last part of that tab.
Step 4: Once you fill in all the details for the Virtual Booth, then you can go to the Small Banner option > Click on 'Add Banner' to upload the desired image for it.
Please refer to the image below to navigate this feature: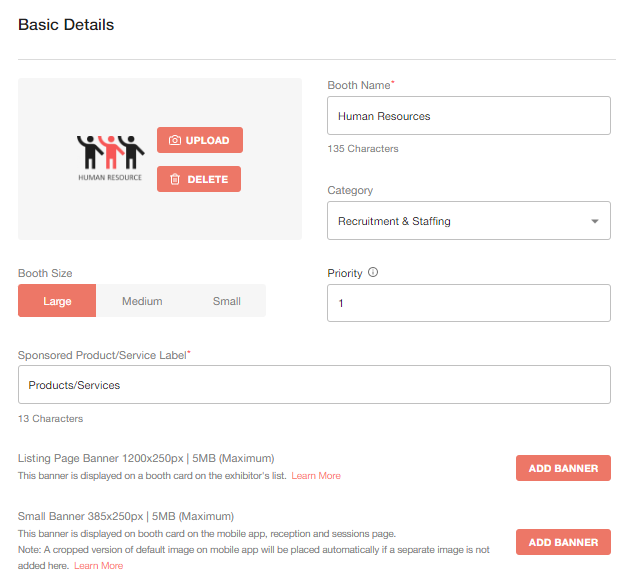 Note: Small Banner option is available for all 3 Booth Sizes (Large, Medium and Small) in the New Community of Hubilo Platform.
Also, If a separate image is not uploaded as a Small Banner, then a cropped version of the Listing Page Banner will be placed there automatically.
For the mobile app, small banner will be visible only for Large and Medium booths.