Marketers spend a lot of time and effort to host webinars - from speaker outreach, topic selection to creating webinar presentations.
A single webinar also offers a huge opportunity for them to create shareable video or audio clips for the speakers. Video shorts can help amplify audience reach, nurtures existing leads, and helps acquire new ones. The sooner you share these assets, the more traction and engagement you get.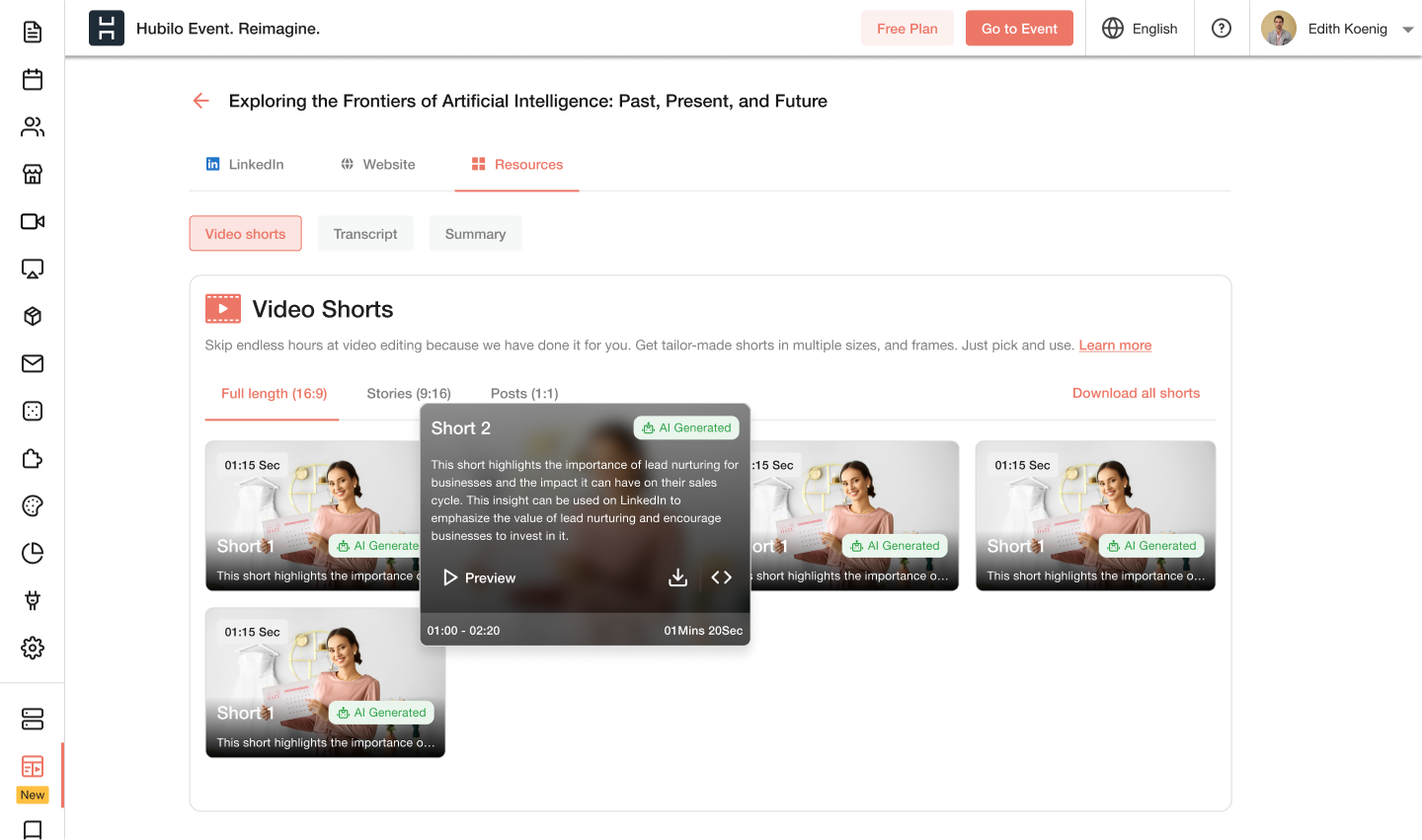 Hubilo Shorts will automatically be created for the following stream settings after the
Hubilo Broadcast Studio

Zoom Meeting

External Encoder

Pre-Recorded Live Sessions
Note- Hubilo Shorts is exclusively available for Webinar+
Once your webinar ends on the final day, we will automatically create shorts for you. An email will be triggered to all organizer & team members informing them that the webinar's snackable content is ready.
You can find all video shorts in the content hub under the Resources Tab > Video Shorts Tab.

Hubilo shorts will automatically identify the most engaging parts from the webinar recording & create 5 shorts from the webinar - no effort required

Each AI generated short will be available in 3 aspect ratios, allowing you to share the shorts over social media in the desired format

Landscape (16:9),

Portrait (9:16) &

Square (1:1)
Once the video shorts are generated by our AI engine, they can be previewed, downloaded or embedded by simply hovering over a desired video short.
To preview a video short, click on the preview icon to play the video, read its transcript along with a reason on why the short was prioritised by our AI engine.

To download a short, you can click on the download icon & select if you would like to download the short in a Audio & Video (.mp4), or a Audio only (.mp3) format. Audio files can be used for audio books, podcasts and more. You can also download all shorts as a .zip file.
If your shorts are not downloading, please ensure you have allowed download on your browser.

To embed a short, you can click on the embed icon. The embed link will be generated & can be copied easily.
Notes
Hubilo shorts are only supported for sessions streamed in English (UK, US)

Hubilo shorts is supported across webinar plus, virtual events, and hybrid event formats.

For generating quality shorts content the recommended session length is 20 mins or more, as it is possible fewer shorts may be generated for shorter sessions.

All files will be downloaded in a .zip format. You may need to use a Zip extractor to access the file.